Information and Pricing
Consultation
The initial consultation lasts for about 45 minutes and subsequent visits last at least 30 minutes.
More and more people nowadays are choosing to consult Osteopaths, Physiotherapists and Acupunturists for their pain instead of just 'putting up with it' and hoping it will go away.
Britain's Osteopaths treat over 7 million patients a year!
Martin Davies & Associates, are a long established practice of Registered Osteopaths, and now include Registered Physiotherapy and Acupunture practitioners.
It is not necessary to see your doctor before consulting any of our Practitioners.
Dedicated to Pain Relief
For over 32 years the practitioners at 'Martin Davies & Associates' based in Crewe, Nantwich, Alsager and Hazel Grove, have been using their highly trained skills as Osteopaths to help remedy those aches and pains caused by the rigors of everyday life.
Charges
Charges for consultation and treatment at our Surgeries from only £47.00 (Hazel Grove £45.00).
Consultation fees from just £47 include an initial 45 min consultation and treatment. So That's a FREE 15 mins with your first consultation!!
Price Promise!
We will match the consultation fee of any local Osteopath (5 mile radius per surgery) as we doubt you can find any better value!
Special Offer for this MONTH ONLY!
Download and bring this voucher in to our practice for £5 off your initial consultation.
THAT'S ONLY £47 for a 45 minute consultation (£45 at Hazel Grove surgery)!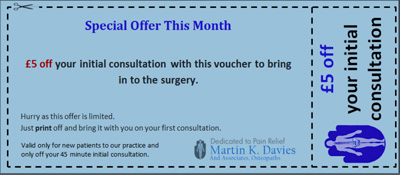 Please click on Voucher to download
This offer is for new patients to our practices only!
Cannot be used in conjunction with any other promotional offers.