Loading
News
---
Physio Andy Leach Celebrates joining us.
Special Offer!
Andy Leach former clinical director of the areas largest local physiotherapy group has joined forces with Martin Davies Osteopaths in Nantwich Crewe and Alsager!
To celebrate Andy's arrival, consultations and treatments with this highly regarded professional are being offered at ONLY £38.00 for a limited time only!!!
So book now and take advantage of this SPECIAL offer!
For more details or to book an appointment, please contact Andy on 07939 884746 or our main number of 01270 610288.
---
Top Local Physio Joins Forces with Area's Oldest Osteopathic Practice!
Exciting news!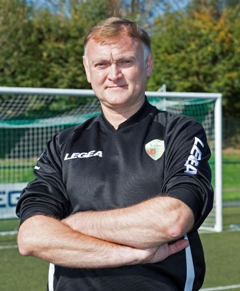 Andy Leach former clinical director of the areas largest local physiotherapy group has joined forces with Martin Davies Osteopaths in Nantwich Crewe and Alsager!
This is exciting news for all patients suffering with pain as it now means we can offer the choice of Osteopathy or Physiotherapy at our Nantwich surgery in Cheshire. Having a team of the highest quality professionals has always been the aim of the practice and to have someone of this calibre and experience working in Nantwich is a real coup!
A top quality sports physiotherapist and experienced general musculoskeletal practitioner, Andy brings a wealth of experience to the practice.
Andy Leach qualified with an Honours Degree in Physiotherapy from The Royal London Hospital in 1985 and over the past 30 years has worked locally in the NHS, professional and amateur sport, industry and private practice gaining a wealth of experience in the assessment and treatment of back and neck pain, soft tissue injuries, joint problems and all sort of aches and pains.
Andy spent 15 years in the NHS specialising in spinal problems and was responsible for designing and setting up the Staffordshire Acute Back pain Service (StABS) which was one of the first physiotherapy led spinal assessment units in the country.
Working closely with Spinal surgeons and other healthcare professionals, Andy developed a comprehensive ability to manage all types of spinal problems incorporating a range of techniques including soft tissue release, joint mobilisation and bespoke exercise plans to allow resolution of symptoms without the need for surgical intervention.
Andy has worked in sport locally with professional and amateur football, rugby, tennis, American football and hockey teams providing pitch side care and dealing with the acute management and longer term rehabilitation of sporting injuries.
Andy is currently Head Physiotherapist to the Champions of the Welsh Premier League!
Andy has worked locally in Industry at Bentley Motors, Air Products and Michelin Tyres providing ergonomic assessment and advice on the shop floor and offering early intervention assessment and treatment to problems caused by the demands of the working environment. He is passionate about the awareness of posture and correct body position in all areas, including office based staff, and has developed a number of programmes with the aim to educate people in the avoidance of potential problems
For the last 15 years, Andy has worked in Private Practice and as Clinical Director of a local Physiotherapy company has helped build a successful and comprehensive business. Deciding that the time was right to move on, Andy sold his shares in the company and has since set up in Private Practice at The Lodge Clinic in Nantwich, working with top local Osteopath Martin Davies,
For more details or to book an appointment, please contact Andy on 07939 884746 or our main number of 01270 610288.
---
New Experienced Professional Podiatrist Joins our Surgery!
Exciting news!
We have been lucky enough to be joined at our Hazel Grove practice in Stockport by a very experienced and respected podiatrist/chiropodist!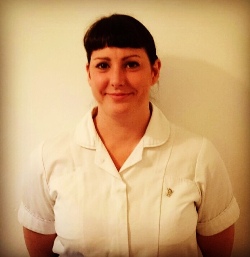 We are hoping to make our surgeries in Cheshire into the area centers of excellence for all your musculoskeletal needs and this represents a coup with another experience chiropodist joining us.
Lydia Aldred BScHons.SRCh.MCHs Chiropodist / Podiatrist
Lydia is a Chiropodist / Podiatrist with 8 years experience. She is fully state registered being a member of the Health and Care Professions Council (HCPC), and the Society of Chiropodists and Podiatrists.
She provides preventative care, diagnosis and treatment of a wide range of problems affecting the feet, ankle and lower legs such as:-
Fungal Infections of the skin and nails
Bunions
Calluses
Corns
Cracked Heels
Diabetic foot care
Feet Flat Feet / Arch Problem
Nail Problems such as ingrowing toenails, thickened nails
Plantar Fasciitis
Sweaty feet / Foot odour
Verrucae
Footwear advice
General footcare
Her aim is to improve the mobility, independence and quality of life of her patients. She provides an extremely friendly and reliable gold standard service.
---
Spate of injuries blamed on Nintendo Wii
By Laura Clout
A computer game which allows users to play virtual tennis in their living room has been blamed for a spate of injuries dubbed "Nintendo Wii syndrome".
Wii-style tennis can cause injuries if players do not limit the time they spend in action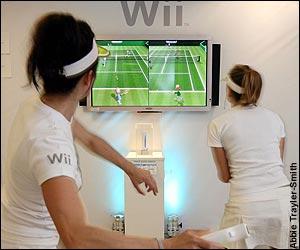 The Wii, which allows people to mimic the movements of activities such as golf, bowling or boxing via a hand-held motion sensor, has been identified as the cause of thousands of minor accidents and injuries.
Osteopaths say middle-aged parents are most at risk from neck, shoulder and elbow problems brought on from playing for too long.
Martin Davies, who runs five osteopathic clinics in Cheshire, noticed a sharp rise in Wii-associated injuries after Christmas.
He said: "We noticed we were getting a number of middle-aged parents coming in having played for far too long on the Nintendo Wii that they had bought their children.
"The older patients in particular are finding their neck, shoulders and elbows are painful and some said they had been playing Wii for up to 10 hours."
Mr Davies says tennis and boxing are the biggest cause of injuries, and he is advising patients to ensure they follow the manufacturers guidelines and limit their playing time.
He has also devised a number of warm-up exercises which can be carried out before starting a play session.
"But it is not all bad," Mr Davies added, "One parent reported that his son had lost a stone in weight since getting a Wii for his birthday."
Click HERE for more Wii news
---
Alex ACE opens New Surgery
Alex striking ace Steve Jones recently opened a New Osteopathic surgery in a prestigious location, The Lodge on Hospital Street, which is adjacent to Churches Mansions in Nantwich.
The new surgery has convenient on site parking and state of the art therapy equipment including the latest laser technology.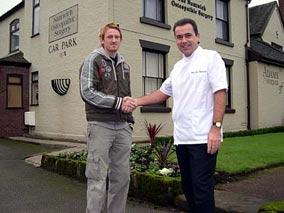 Martin Davies, the practices owner has been practicing in Crewe & Nantwich for over 20 years and sees the new surgery as essential in meeting the increasing demands for the skills of Osteopaths in treating the disabling and painful conditions of the spine and skeleton.
Apart from treating the common bad back and neck problems the surgery will also house the Golf Health Clinic where Martin Davies a registered member of the PGA will be able to advise on most aspects of golf health and injuries.
pictured: Steve Jones congratulates Martin Davies outside the new surgery.
UK Osteopaths in South Cheshire, covering Sandbach, Alsager, Crewe, Stockport, Hazel Grove, treating backache, back pain, sciatica etc.
---
Local Osteopaths Help Local Motor-neurone Disease Sufferers
Local Osteopaths, Martin Davies and Associates today presented the local Cheshire Motor-Neurone Disease Society with a cheque for £1,000, which has been raised over the last year from donations received for "soothing wheat bag, heat pads" which are available at their local Osteopathic Surgeries in Alsager, Stockport, Crewe and Nantwich. These wheat can bags make excellent Christmas gifts. Email us for info.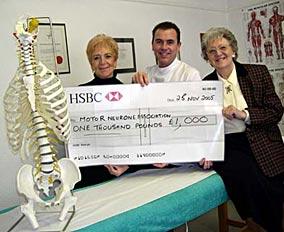 Martin Davies the practices senior Osteopath said that they felt it was necessary to raise funds to help sufferers of this crippling disease after 2 friends recently died from this illness.
pictured:
June Taylor - Left - Receptionist
Martin Davies - Centre - Osteopath
Joan Park - Right - MND Chairperson
For over 20 years Martin Davies and his associates have been helping local people with musculoskeletal problems including painful back and neck conditions, sciatica, knee & Elbow problems, as well as helping with the pain and stiffness of Arthritis.
They also use state of the art laser therapy as well as the traditional osteopathic techniques.
Apart from treating all manner of sporting injuries the Osteopaths at the practices also actively compete in a number of sports.
Pictured here is Martin Davies competing at a Triathlon event.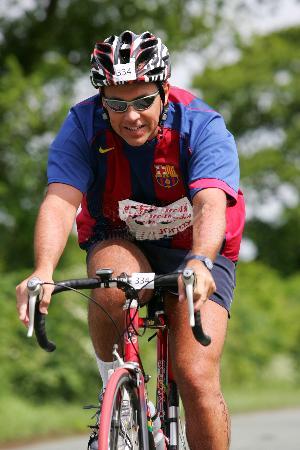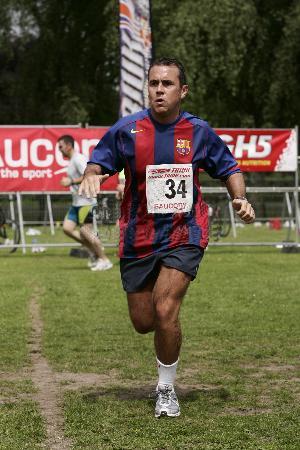 ---